Acetyl chloride
Enquire Now
Nikava Pharmaceutical Industries is one of the prominent manufacturers and suppliers of high-quality Acetyl Chloride Chemicals in Ireland.
Acetyl chloride, CH3COCl is an acid chloride derived from acetic acid. It belongs to the class of organic compounds called acyl halides. It is a colorless, corrosive, volatile liquid.
About Nikava Pharmaceutical Industries
Nikava Pharmaceutical Industries was established in the year 1976. The company was set up under the guidance and vision of its Technical Director Mr. Ramniklal N. Vora. We have a specialization in the manufacture of Specialty Chemicals & Pharmaceutical raw materials. One of our plants has a dedicated facility for manufacturing Specialty chemicals for corticosteroid products. We have been supplying
products as intermediates for bulk drug manufacturers for the past 39 years. Our quality control department is headed and managed by experienced and well-qualified staff.
The list of our clients includes Glaxo Smithkline Itd India & Singapore, US Vitamins Ltd., Cipla Ltd, Wockhardt Ltd, Franco Indian Pharmaceuticals Pvt Ltd. Ranbaxy, Lupin, Sun Pharma, etc. We are exporting our products regularly to Europe and Asia. Our group owns and runs plants of medium-scale capacity. We are also experienced in processing, handling, vacuum distillation, purification, and packing of hazardous products for multinational companies.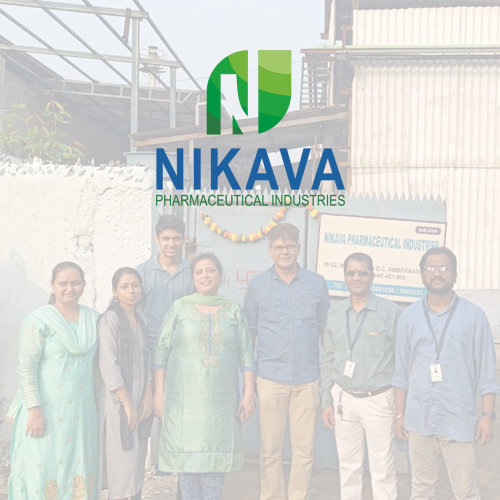 Why Choose Us
Nikava Pharmaceutical Industries in Ireland provides the best quality of material with great emphasis on the client's requirements to meet higher standards.




Product Details
This offered range of chemicals manufactured by Nikava Pharmaceutical Industries is widely used as pharmaceutical bulk drugs and intermediates all over Ireland.
| | |
| --- | --- |
| Name of the Product | ACETYL CHLORIDE |
| CAS Number | 75-36-5 |
Request MSDS
Results of Analysis and Protocols of the Test applied
| | | |
| --- | --- | --- |
| TEST | LIMIT | RESULT |
| Characteristics | Colorless water-like liquid | O.K |
| Boiling range | 95 % of material distills between a range of 51 and 53 Deg Celsius | O.K |
| Specific Gravity at 25 Deg Celsius | Between 1.104 to 1.11 | 1.105 |
| Assay | Not less than 99 % | 99.25% |