Nikava Pharmaceutical Industries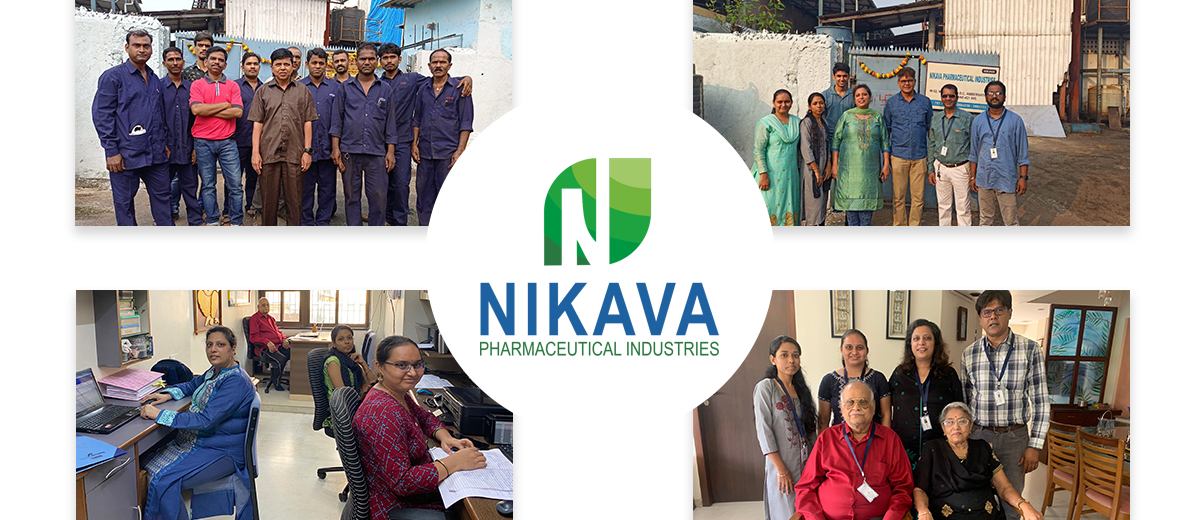 Nikava Pharmaceutical Industries was established in the year 1976. The company was set up under the guidance and vision of its Technical Director Mr. Ramniklal N. Vora Bsc Tech. Mr. Vora has graduated from the most prestigious Institute Department of Chemical Technology Bombay (UDCT) in the year 1963. He is also supported by his son Mr. Chetan R Vora a Chemical Engineer from the U.S
We have a specialization in the manufacture of Specialty Chemicals & Pharmaceutical raw materials. One of our Plant has a dedicated facility for the manufacture of Specialty chemicals for corticosteroid products. We are supplying products as intermediates for bulk drug manufacturers for the past 39 years. We have a quality control department headed and managed by experienced and well-qualified staff.
We have all instrumentation and laboratory equipment for a medium scale company to conduct in house testing of the products and R & D that we are manufacturing. The laboratory can handle small and special Research and Development programs and have planned higher standards to meet future technological improvements.
List of our clients includes Glaxo Smithkline Itd India & Singapore, US Vitamins Ltd., Cipla Ltd, Wockhardt Ltd, Franco Indian Pharmaceuticals Pvt Ltd. Ranbaxy, Lupin, Sun Pharma, etc. We are exporting our products regularly to Europe and Asia. Our group owns and runs plants of medium-scale capacity. We are also experienced in processing, handling, and vacuum distillation, purification, and packing of hazardous products for multinational companies.
We have a goal to achieve the best quality of material with great emphasis on the client's requirements to meet higher standards.

Experienced R & D Department



Large Production Capacity
History Of Nikava
1976
Nikava Pharmaceutical industries was started by Mr Ramniklal Vora after his graduation from UCIT Mumbai and his past work experience.
1980
Started manufacture of Fine chemicals and bulk chemicals for GSK, LUPIN , Wockhardt.
1985
Developed and Set up manufacture of Speciality chemicals with the R&D department of GSK Thane for their Steroid plant at Thane .
1995
Chetan R vora and Amee C Vora joined the company and started exports of all the major products to Europe and South East Asia.
2004
Worked with UNIDO supported by Dr Jan Gajowski to develop alternate process discarding use of OZONE Depleting solvent namely CTC and started alternate process development from pilot to Plant scale.
2007
Started manufacture of various Laboratory chemicals and supplies to Thermofischer, Loba Chemie and Finar.
2010
New products, raw materials and intermediates were introduced specifically for Phrmaceutical and Bulk drugs manufacturing plants in India and abroad.
2014
Acquired land and started to plan for a second manufacturing facility in Ambernath.
2020
To undertake contract manufacturing of raw materials and intermediates for Bulk drug manufacturing units associated with Nikava.
Mission
We have a goal to achieve the best quality of material with great emphasis on the client's requirement to meet the higher standards. Manufacturing and supplying
Our specialty chemicals & Raw materials internationally with environmentally responsible companies. Our mission is to develop trustworthy relationships with those we serve so that we may achieve mutual success.
Vision
Our vision is to attempt to walk a step closer to the goal of providing excellent health to society in general. To holistically contribute by continuously enhancing the level of human resources, technology and quality standards and intend to provide our customers.
Quality Control
Our Customers are the lifeblood of our business. The very existence of Nikava Pharmaceuticals Industries always has and always will depend directly on the complete satisfaction of our customers. Customer's satisfaction is met through the supply of products of the highest quality. Quality is of utmost importance to the success of our business.
It is the policy of Nikava to constantly endeavor to manufacture and deliver products that conform to the specification laid down by our customers. This is achieved through the adherence to operating procedures and the commitment of all staff whose activities impinge upon the product quality. The Director shall have the overall responsibility for the implementation and control of the system which carries out this policy.
Our Certificates